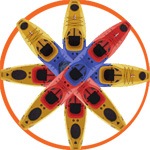 Decked Modular Kayaks!

The Point 65 modular kayaks simplify kayak storage, transport and carrying to the beach! Here are decked touring kayaks you can carry in easily portable sections. Snap them together in seconds at the waters edge to be ready to go! Need an extra seat for a friend, family member, or special pet, then snap in a mid section, or even two, or three, and you have a tandem, or triple, or four-seater.

When you return from your excursion simply take apart into easy-carry sections, and stow in the back of your car. No need for a roof rack with security cables and locks, simply lock inside your car! Sections are small enough to take in an elevator, or store in a closet. Convient and versatile!

There are two models of P65 modular decked kayak.

Mercury GTX is the expedition touring model that will take you far and fast, with your camping equipment and supplies if you like.


Martini GTX is a super-stable and easily handled recreational kayak, great for day-touring and exploring. For the family, simply clip in an extra section when you need one!
Martini GTX, is also available as a fishing version, the Martini GTX Angler (currently not available in USA)



Below: 3-seat/4-section Martini GTX