Frequently asked questions about paddles

Here are some commonly asked questions about our paddles with answers that may help you. If you don't find the answer here, please feel free to contact us with your question.

What are drip rings?

Drip rings are the rubber or plastic rings on your paddle shaft. They are supposed to shed water that otherwise runs from a raised paddle blade to your hand during paddling.
Simply slide the rings to where you would like them between your hand and the paddle blade so they do not dip and lift water. They should shed water outside rather than into your kayak.


Drip rings work best with a low angle stroke. With high angle strokes you'll find water shedding into your kayak or your head. If you usually use a high angle stroke, remove the rings, or slide them to between your hands if you find yourself getting wet from high angle strokes.

Low angle or high angle paddle: what is the difference?

Paddles are typically designed with a high angle or low angle forward stroke in mind. Blades for a low angle stroke tend to be narrower and longer, and they enter the water edge-first, while high angle blades are wider and shorter and enter the water end-first.
Usually it is possible to adopt either paddling style with either type of blade, so it's not a big issue to switch during the day.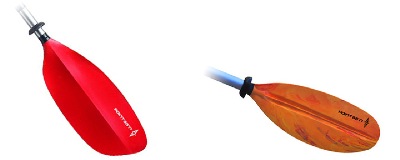 A high angle stroke (left) offers you more power with straighter tracking. You can choose a shorter paddle. A low angle stroke (right) may seem more relaxing, and you'll use a longer paddle.

What is the advantage of a fiberglass or carbon paddle blade over a plastic blade?

Both fiberglass and carbon blades are lighter and stiffer than plastic ones. Stiffer blades work better for paddling, and you'll notice it's easier work with a lightweight paddle.
You can also reduce weight by choosing a lighter paddle shaft, of fiberglass or carbon rather than aluminum.
The main advantage of a plastic blade with aluminum shaft is the lower cost. It's a good combination for a starter paddle.